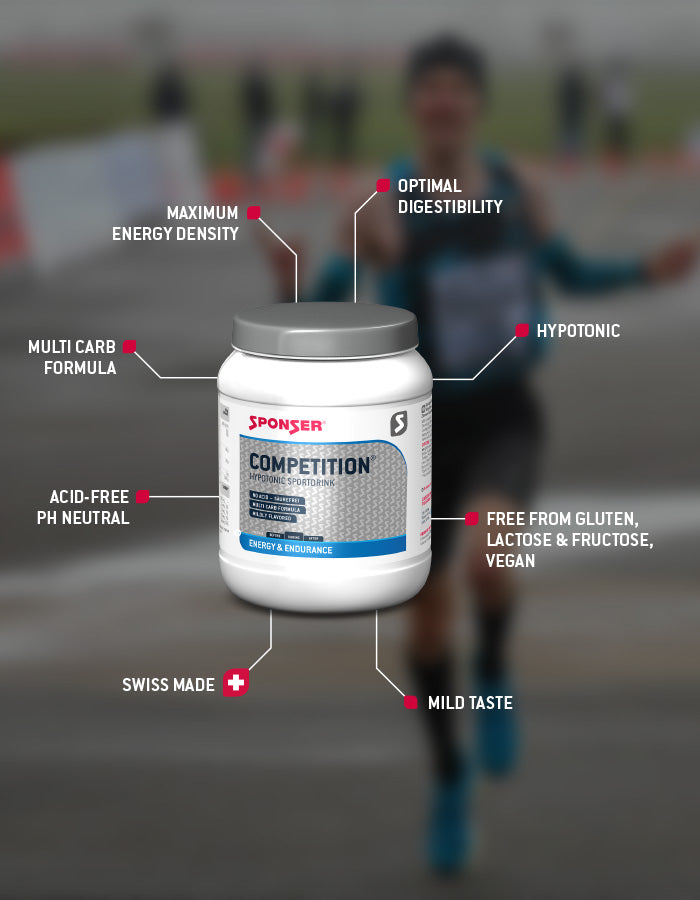 COMPETITION COOL MINT - additional benefits during heat
The new COOL MINT taste of the sports drink COMPETITION® not only offers variety to the existing flavours, but also provides an additional benefit in hot weather conditions: the menthol, naturally contained in mint extract, refreshes with its cooling taste and was developed with the Summer Games in Japan in mind.
Recent studies show that menthol - ingested through taste receptors in the mouth - creates a cooling sensation and this effect can also improve athletic performance in heat (Jeffries, Eur J Appl Physiol, 2018; Stevens, Sports Med, 2017). For this reason, the development department at SPONSER® has decided to integrate menthol into a sports drink.
The popular COMPETITION® sports drink is now also available in COOL MINT flavour. The acid-free sports drink is suitable for the highest energy demands and consists of a broad mix of different carbohydrates with different glycaemic index and electrolytes. Thanks to its special composition, the sports drink is practically pH-neutral (acid-free) and particularly well tolerated, making it suitable even in high concentrations and at highest intensities. The COOL MINT aroma offers a pleasant "cooling effect" and is the ideal sports drink for hot weather.
Pro triathlet Jan van Berkel is enthusiastic
Pro triathlet Jan van Berkel tested the drink extensively in a training camp and was enthusiastic about it. His verdict: «I took the COOL MINT with me to the training camp in Thailand and thought it was extremely pleasant to drink. The cooling effect which you experience when you drink the COMPETITION COOL MINT is refreshing and gives you a very pleasant feeling. I like the slight acidity which I sense from the mint extract. I would definitely use COMPETITION COOL MINT during competitions in hot weather conditions!»
COMPETITION® COOL MINT: A cool and refreshing sports drink not only for the athletes in the Japanese summer heat, but also to enhance your performance in any kind of sports activities in summer.