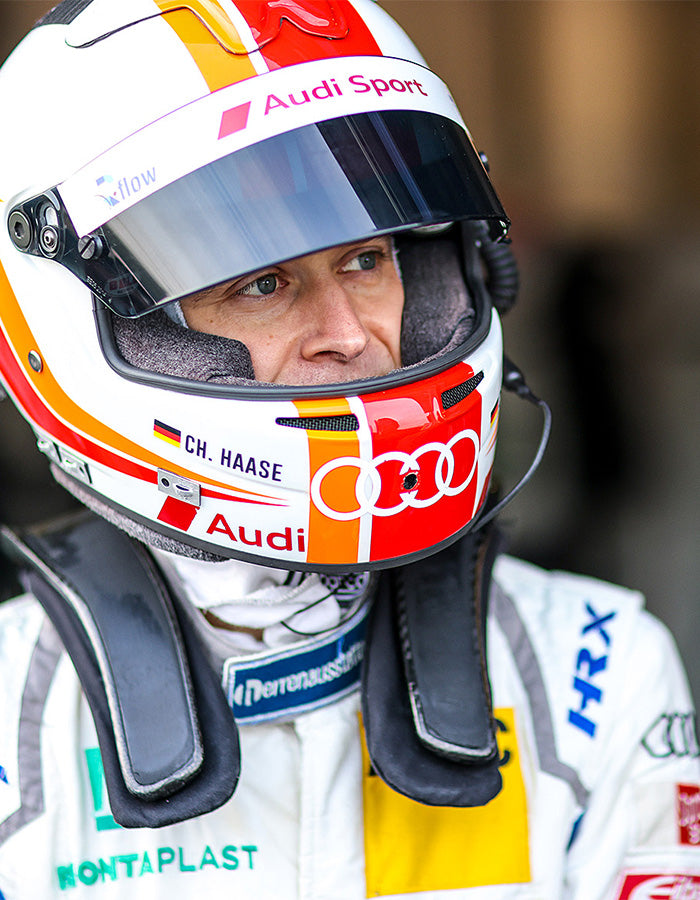 «60 degrees Celsius in the cockpit: motorsport is mentally extremely challenging!»
German Audi Sport driver Christopher Haase is one of the best athletes when it comes to races over eight, twelve or 24 hours. His victories in recent years show that he drives to victory on almost every continent in the Audi R8 LMS: 1st place Sepang 12 Hours 2016, 1st place Spa 24 Hours 2017, 1st place California 8 Hours 2018, 1st place Dubai 24 Hours 2019. We wanted to know from him: How do you concentrate for 24 hours? How does a professional motorsport athlete train? And what does he pay attention to in his nutrition?
Christopher, can you explain how you got into motorsport?
I have been in an automobile club as a teenager. One day, the idea came up to do a junior project. As the youngest driver, I got the chance to be a team member in the ADAC Dacia Logan Cup at that time. That's when the fire was lit! The team managed third place in the championship and I got to win my first ever race at the age of 18.
What happened next?
Just one year later I entered the ADAC GT Masters with the well-known GT3 cars, where I became the first GT Masters champion in 2007. Several European championship titles in FIA GT4 SL and FIA GT3 followed. I have now been driving for Audi Sport customer racing since my first race with Audi in 2011.
What is a racing season like on the professional tour?
Motorsport or GT racing, which is what I do, means that you're constantly travelling the world. As a GT sportsman, I usually drive between 20-28 races a year, plus extensive test days. That means you can easily do 14 race weekends in a row, as was the case for me in 2020.
What does a typical training day look like?
Because of all the travelling, it's not so easy to organise a «normal» training day. Ideally, I like to do strength endurance training in the morning and cardio training in the afternoon. In motorsport you need a balanced physical all-round constitution. That means: not too much weight, a solid muscle corset and good endurance. I like to do running and spinning for endurance and interval training. I prefer to do everything indoors, where you don't feel the wind. Moreover, with a high indoor temperature you also train the heat.
You have already won prestigious 24-hour and several 12-hour races. How do you keep your concentration high?
Mentally, motorsport is extremely demanding. You have to do many things at the same time in order not lose a tenth of a second! Keeping an eye on the opponents, managing the car parameters, informing the team or taking in information from the team. Concentration is the be-all and end-all in this sport. The problem is that this is difficult to train. For me personally, it has paid off to focus fully on resting and recovering in the cockpit after a race part. In the two hours between the two stints, I try to give the body what it needs and otherwise try to cool down mentally. At some point, however, the exhaustion becomes so great that body and head function as if in a tunnel. In general, I think that concentration is best trained through frequent racing.
What do you provide your body with during a competition?
Nutrition is of course a very important part of any sport, including motorsport. For me, the most important thing is tolerance. And that's where the products from SPONSER help me in the best possible way: both in sprint and endurance races! My favourite sports food for races and afterwards is the HIGH ENERGY BAR Salty+Nuts. LIQUID ENERGY GELS are also constant companions in ordert o have enough power and the right nutrients. My race drink is COMPETITION orange, which I drink already some days before the competition weekend.
How do you deal with heat in the cockpit or when travelling?
Heat is a crucial factor in motorsport. It's not uncommon to reach around 60° Celsius in the cockpit! You can hardly imagine how much fluid and nutrients you lose during a double stint of 2 h 20 min. In stressful times I use IMMUNOGUARD to strengthen my immune system. I have had very good experiences with it. In hot temperatures, RED BEET VINITROX helps me to improve the oxygen flow in my body.
More information about Christopher Haase can be found on his website and on his social media channels on Facebook, Instagram or Twitter.
Related articles
on » interviews
on » pro tip
on » immune system