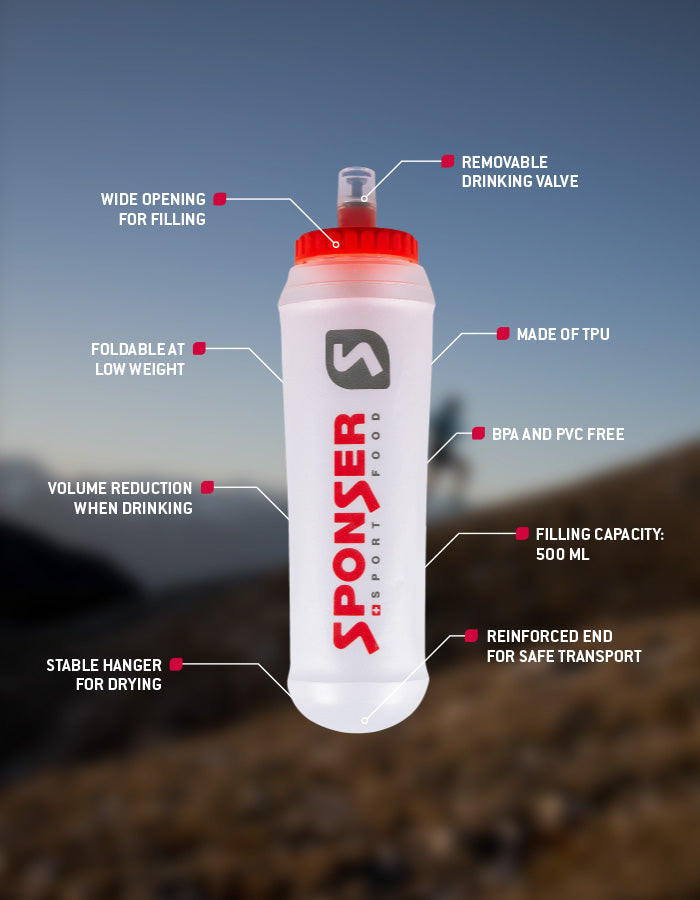 All advantages at a glance
The new foldable SOFT FLASK by SPONSER® inspires athletes who are at home in trail running, mountain and snow sports! The bottle convinces with light, extremely flexible material, which allows it to be folded effortlessly. Reinforced ends and a large opening allow for optimal filling and safe stowage in any bag or trail backpack. The «bite valve» facilitates one-handed use and also reduces the volume of the SOFT FLASK when drinking. A practical hanging device ensures easy cleaning and drying. The filling volume is 500 ml. The bottles are suitable for cold and hot drinks up to 50° celsius.
Please note: Wash SOFT FLASK thoroughly with dishwashing detergent prior to first use and do not bring into contact with pointed or sharp objects. Never wash in the dishwasher. Made of TPU, free from bisphenol A (BPA), PVC and plasticisers, with environmentally friendly and food-grade ink.*
* The inks and materials used comply with the European standard EN 71 (safety of toys), part 3 (migration of certain elements). The plastics used do not contain plasticisers or bisphenol A and can be brought into contact with food. Migration tests are carried out regularly by certified laboratories.
Related articles
shop » SOFT FLASK
on » endurance performance
on » race nutrition
sport » running
shop » energy & endurance