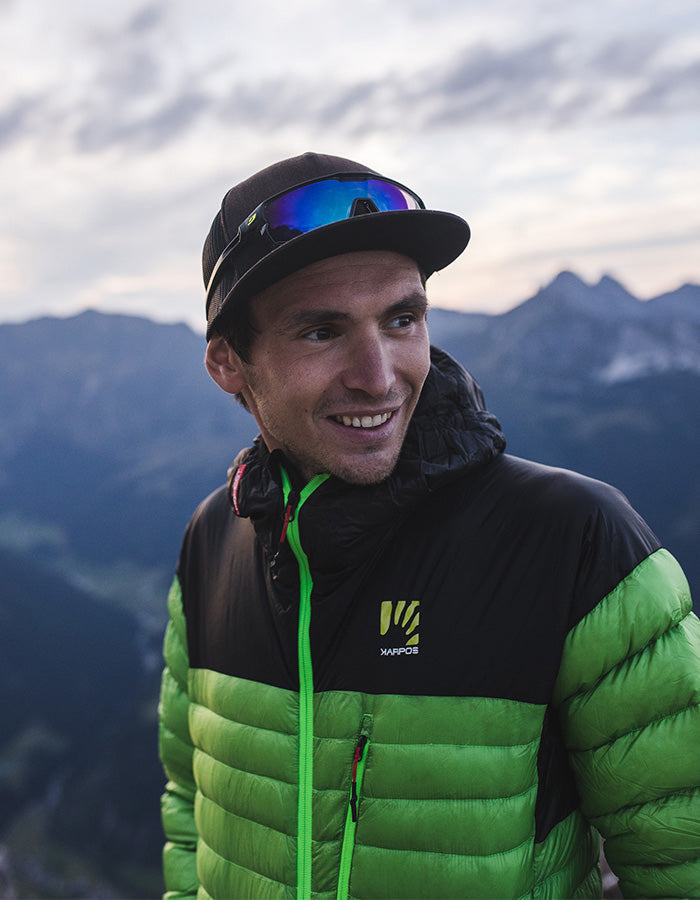 Photo credit: Verena Illmer
«I trust in the energy boost of LIQUID ENERGY PLUS GEL!»
Growing up in South Tyrol, Philipp Ausserhofer literally had the mountains at his feet. Therefore, it is hardly surprising that the trail runner and ski mountaineer is now one of the world's best in his field. Victories on the Ultra Trail World Tour (Mozart 100), on the Dolomiti Extreme Trail, Hochkönigman or at the Innsbruck Alpine Trailrun Festival (Heart of the Alps Ultra) are ample proof of this. In the interview, the extreme runner gives us a close insight into his sports nutrition and is not stingy with personal nutrition tips for other ultra-athletes.
Philipp, what do you love about running ultra-distances?
Trail running, and ultra-trail running in particular, is an opportunity to break out of my comfort zone and find out where my limits are. I love spending long days in the mountains, exploring new areas. In ultra-running, I'm also fascinated by the mental component: Because it's not just about strength in the legs, but much more about determination, discipline and a certain «stubbornness» in the mind.
What does you daily nutrition look like?
I make sure I eat a balanced diet. It is particularly important to me to eat regionally. I believe that organic food is the most valuable for our environment. During the competition season, I am a vegetarian and especially pay attention to eat alkaline root vegetables.
What is your food concept for ultra-distances?
I have already learned a lot and tried out a lot. Currently, I run best with a combination of solid food such as potatoes, rice, etc. and gels between the refreshment stations. In addition, fluid balance and fluid intake play a decisive role. It is not just about energy intake, but also about the electrolyte balance.
What equipment is indispensable for you?
The backpack. I think it plays an important role in ultra-running in general. It has to have enough storage space for the compulsory equipment, fit snugly around the body and still allow enough mobility. It also has to have enough space for food. The flask holder in the chest area is also crucial. I need flasks, which are easy to fill. In addition, in trust in bars and gels that provide quick and uncomplicated nutritional intake. For example, bars and gels that are easy to open or portioned rice balls.
What does you nutrition look like before a race?
Preparation is extremely important before big races - this includes not only training and equipment care, but also nutrition and regeneration. Both are crucial for the body to perform on race day. I prefer to fill my stores with vegetarian, carbohydrate-rich meals during the competition week. Moreover, I do fill the glycogen stores specifically before the competitions. I also try to reduce my coffee consumption in this time, although this is difficult for me.
Your favourite SPONSER product for extreme situations?
Definitely the LIQUID ENERGY PLUS Gel, because I can always rely on its energy boost. It is easy and uncomplicated to use, tasty and the energy is available to me quickly.
If you were to invent another product in sports nutrition: What would it be?
A recovery protein pudding as a reward after a hard workout! That would be great in autumn and winter, in order to warm up with a hot pudding. In competition, there is often one point where I long for tasty and salty food, because most of the bars and gels are sweet.
What do you like to eat and drink quite generally?
A nice coffee and a piece of cake - whether it is after a good workout with friends or a chilled out day at home. I do not think there is anywhere better to philosophise and discuss with friends.
What are your next projects?
Now I am planning and preparing for the next season, which I am really looking forward to. I have planned starts at this year's Eiger Ultra Trail (101 k) and Ultra-Trail du Mont-Blanc (160 k). Keep your fingers crossed for me!
Related articles
on » interviews
on » race nutrition
sport » running
shop » energy & endurance